ASSETs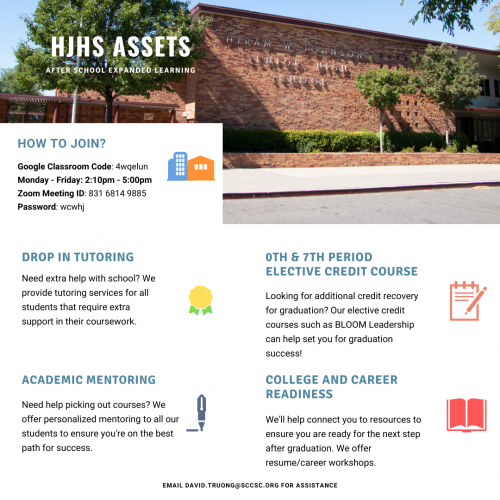 ASSETs (After School Safety and Enrichment for Teens) is an expanded learning program providing high quality, youth driven out-of-school-time opportunities to students enrolled at Hiram Johnson High School. We offer enrichment, for-credit courses and non-credit courses to students in all grades as well as academic mentoring and educational development programs. The ASSETs administrative office is located in C-3.
Schedule
M, T, W, Th, F
Subject to change based on Distance Learning.
Email David Truong at david-truong@scusd.edu for questions.
Faculty Staff

• David Truong – Sr. Program Manager
• Binh Phan – Sr. Team Leader
• Christian Carpenter – Sr. Team Leader
• Chailee Her – Team Leader
• Bryanna Brownlowe – Team Leader
• Emily Vang – Team Leader
• Tyler Innis – Team Leader
• Raymond Ly – Team Leader
• Darlene Hartin – Team Leader
Partners
• Northstate University
• BLOOM
• PRO (People Reaching Out)
• RoccSolid Advisement (Blacks Making a Difference)
• Brown Issues
• Sacramento Urban Debate League (SUDL)
• Department of Sound (DoS)
• 65th St. Corridor
Courses Offered
Credit Courses: Spring 2020-2021
• Credit Recovery - TBD
• Body Sculpting (Google Classroom: aw2dwor)
• BLOOM Leadership (Google Classroom: yctad6e)
• Athletic Conditioning (Google Classroom: yrq3cu6)
• Athletic Conditioning – Football (Google Classroom: dijjywy)
• Computer Science Principles – Coding (Google Classroom: cxlb3fo)
Non-Credit Courses:
• Warrior Distance Learning Wellness (Google Classroom: to55qeu)
• Life Skills w/ Bruno (Google Classroom: 6mfblxl)
• Sacramento Urban Debate League (Google Classroom: qjnmis5)
• Department of Sound (Google Classroom: lgbisgr)
• Healthy HeART and Mind Taiko Drumming (Google Classroom: jzq6mh3)
• ROYAL Tribe Dance Crew
Services Offered (Google Classroom: 4wqelun)
• Tutoring & Homework Help
• Math Support
• College Readiness & Planning
• Career Advising
• Internship Search & Work Resources